pan-european assessment, monitoring, and mitigation of stressors on the health of bees
PoshBee Legacy brochure: Catch a glimpse of PoshBee's key findings
Since 2018, academics, beekeepers and farmers have been joining forces in PoshBee to support healthy bee populations, sustainable beekeeping and pollination across Europe. To provide a concise overview of their main results, PoshBee published a special project Legacy brochure which summarises the key findings of each work package, thus offering a glimpse into what PoshBee achieved in the past five years.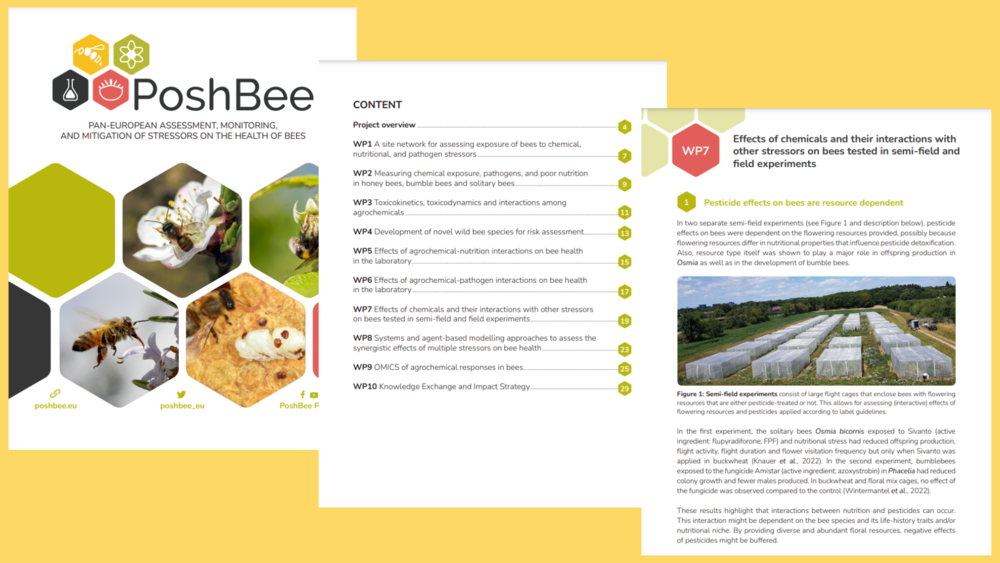 PoshBee's Legacy brochure
Although there is still a long way to go when it comes to stopping and reversing bee decline, PoshBee is happy to have contributed to the better understanding of the exposure hazard of chemicals to managed and wild bees, as well as of how chemicals alone, in mixtures, and in combination with pathogens and nutrition, affect bee health. PoshBee also supported the need for monitoring tools, novel screening protocols, and practice-relevant research outputs to local, national, European, and global stakeholders. Lastly, the project is currently developing a series of policy briefs which will contain concise policy recommendations based on PoshBee's research.
Find out more and download PoshBee's Legacy brochure here.