pan-european assessment, monitoring, and mitigation of stressors on the health of bees
PoshBee paper sheds more light on a tool to evaluate stressor impacts on bee health
Pesticides pose a potential threat to bee health, which could be exacerbated when combined with other stressors, such as parasites. Current pesticide risk assessment however evaluates pesticide impact on otherwise healthy bees without accounting for these additional stressors. To understand the specific impacts of pesticides and their interactions with other stressors, a new PoshBee paper tested acute oral doses of three pesticides — glyphosate, Amistar and sulfoxaflor — on the bumblebee Bombus terrestris, alongside the gut parasite Crithidia bombi.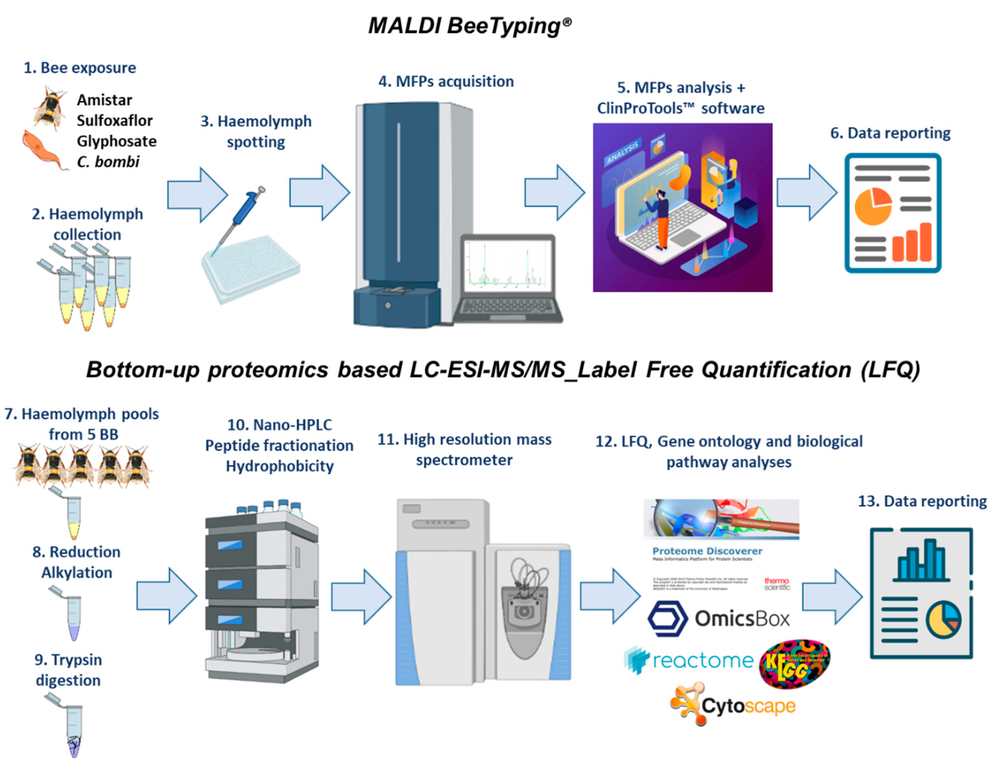 Experimental workflow for exposure, MALDI BeeTyping® (Steps 1–6) and LFQ bottom-up proteomics (Steps 7–13) to follow the impact of stressors on B. terrestris health. (1) Bee exposure to three different pesticides (Amistar, sulfoxaflor, and glyphosate) and to the parasite C. bombi; (2) haemolymph collection; (3) sample dilution and spotting on MALDI plate; (4) MFPs acquisition; data analysis (5) and processing (6). The Bottom-up proteomics-based liquid chromatography–electrospray ionisation mass spectrometry (LC-ESI-MS/MS): (7) pooling of haemolymph from five individual bumble bees 5 (BB); (8) chemical reduction/alkylation; (9) trypsin digestion; (10) fractionation of the digests by nanoliquid chromatography and (11) analysis by high-resolution mass spectrometry; (12) analysis of the spectra with bioinformatics tools for label-free quantification (LFQ), gene ontology, and biological pathway analyses before (13) data reporting.
Using molecular mass profiling by MALDI BeeTyping®, the team studied bee haemolymph to explore the signature of pesticidal and parasitic stressor impacts. Next to that, researchers used bottom-up proteomics to investigate the modulation of the haemoproteome. Their findings indicate that despite the absence of observable responses at a whole organism level, MALDI BeeTyping® can detect effects, making it a pertinent tool to evaluate stressor impacts on bee health at the individual level.
Read the full paper here.