pan-european assessment, monitoring, and mitigation of stressors on the health of bees
PoshBee workshops: wrapping up over 4 years of prolific research
2023 started with an action-packed January for PoshBee. On 11 and 12 January, with less than 6 months left in the project, partners met up in GatherTown to make sure there would be nothing but smooth sailing until the Final project meeting in March and ultimately, PoshBee's end in May. The two-day workshops covered a wide area of topics, ranging from the coordination of upcoming publications and open access guidelines to ensuring overall project objectives are met through strategic discussions among the project management group.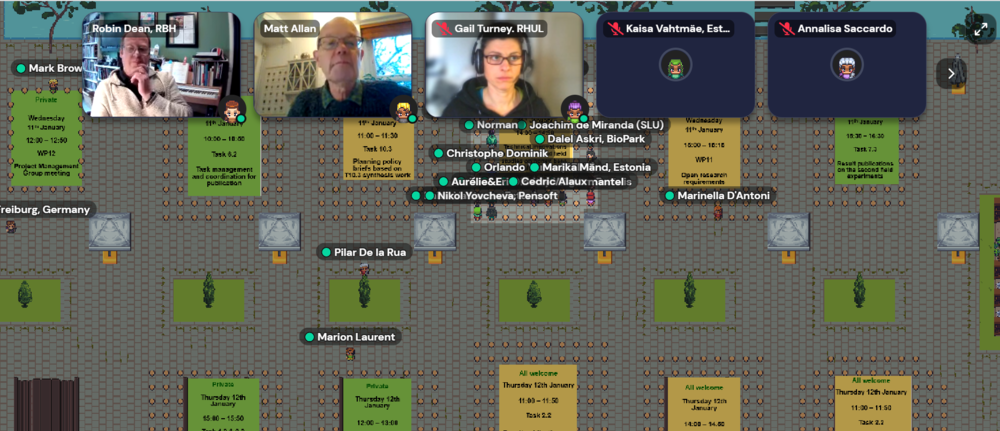 PoshBee partners gathering in PoshTown.
The first day started with a brainstorming session on the upcoming PoshBee policy briefs. These will be based on the synthesised project results on three topic areas: exposure, effects and omics. Stay tuned for the policy briefs expected in May 2023!
And from a planning session to an action one – PoshBee partners Matthew J. Allan and Robin R. Dean presented their technical innovations in semi-field and field studies on honeybees, bumble bees and solitary bees. These are designed to improve and simplify bee handling and data collection in the field. Robin and Matthew also informed partners about a related new publication they have in the works – to be published in the Research Ideas and Outcomes Journal. Meanwhile, you can find out more about their work in their paper An integrated system for field studies on honey bees.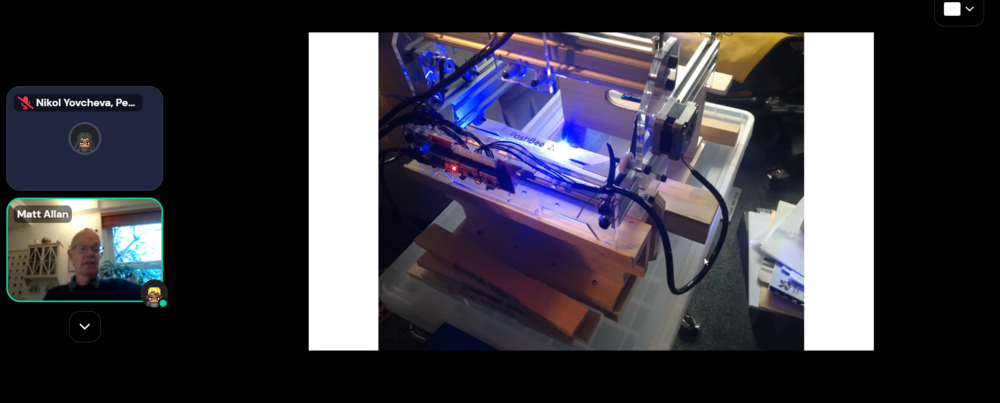 Matthew Allan presenting technical innovations.
The second day of workshops continued with discussions on how to best synthesise WP7's results from assessing single and combined effects of key agrochemicals and other stressors on different model bee species under semi-field conditions across multiple European sites. WP2 then highlighted their work on nutrition and wing morphology. You can find out more about that in the paper Impact of crop exposure and agricultural intensification on the phenotypic variation of bees. Partners also received training in the scoring exercises related to a workshop on mitigating multiple stressors.
Lastly, PoshBee members from WP8 presented the model ApisRam (regarding honeybees) and discussed it along with similar models for Osmia and Bombus. To find out more about modelling bee health, you can consult the paper A deeper understanding of system interactions can explain contradictory field results on pesticide impact on honey bees.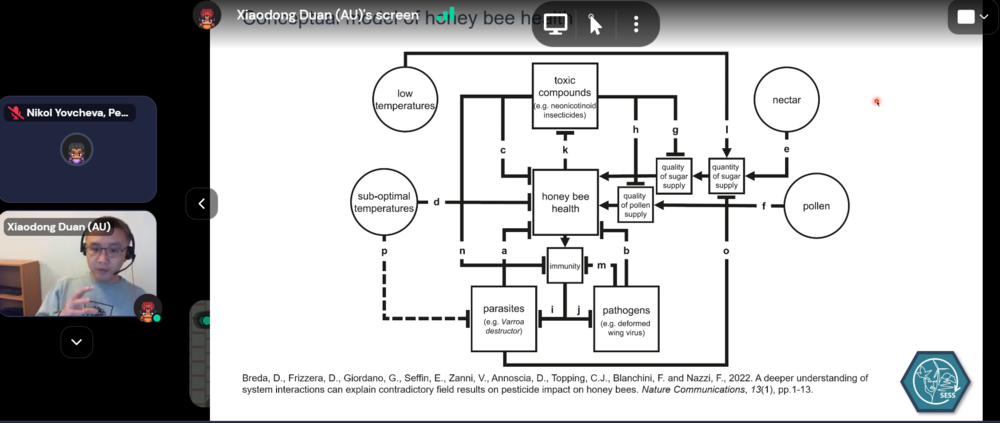 Xiaodong Duan presenting a conceptual model of honey bee health.
After an intense couple of days, we can say we feel confident that we are on the right track for the project's final months! See you in Rome for PoshBee's Final meeting!