pan-european assessment, monitoring, and mitigation of stressors on the health of bees
Save the bees for our future: PoshBee at EurBee 9
The 9th European Congress of Apidology (EurBee 9) – convened under the motto "Save the bees for our future" – took place in Belgrade, Serbia, in September 2022. This international event was not only an opportunity for interesting scientific contributions and collaborative meetings, but also a chance for scientists and bee experts from around the world to meet in person. Among the oral and poster presentations delivered at EurBee 9, you could spot many familiar PoshBee faces.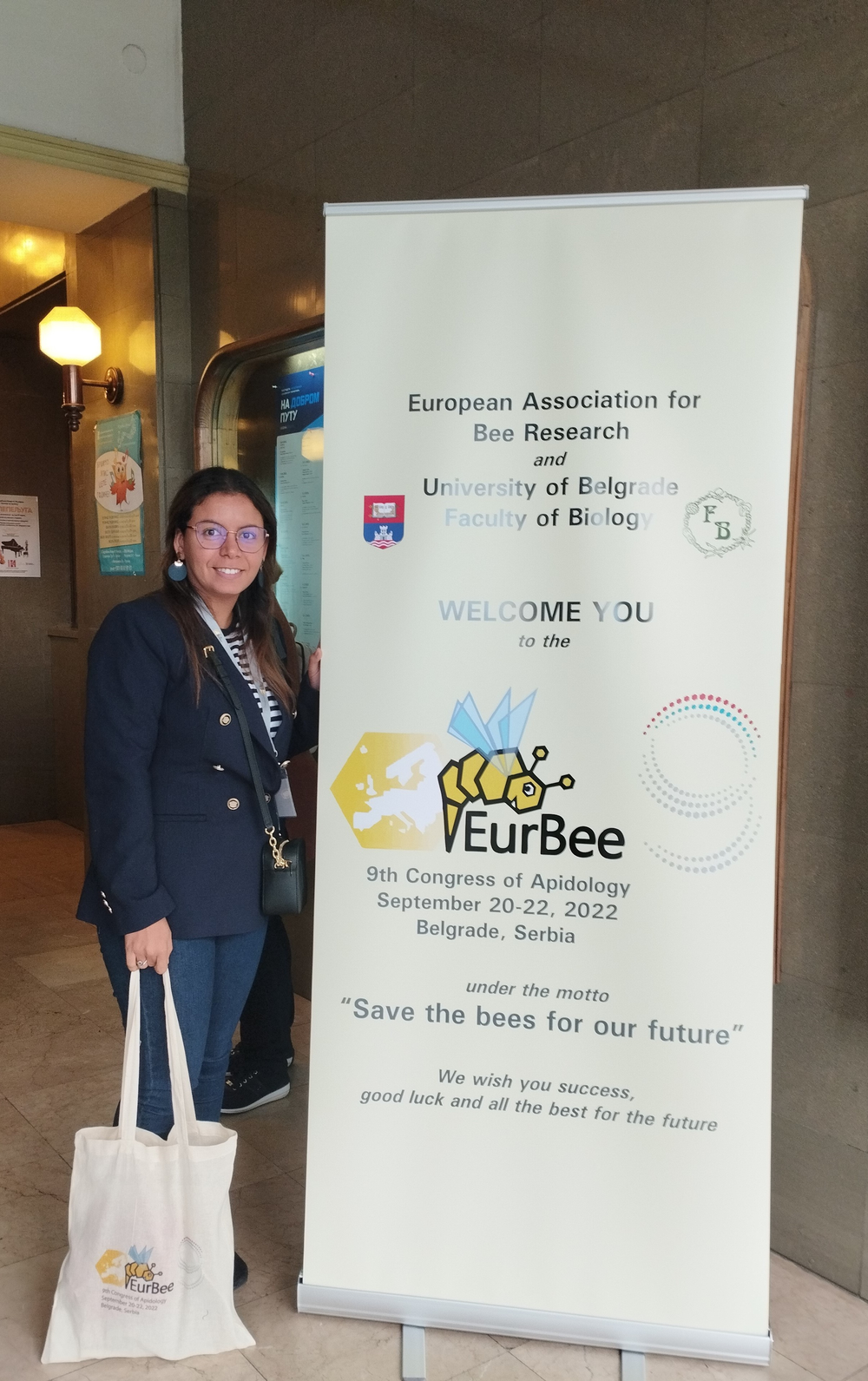 Dr. Dalel Askri at EurBee 9.
PoshBee partner Dr. Dalel Askri (BioPark Archamps) had the opportunity to present her work on MALDI-MS Profiling to Address Honey Bee Health Status under Bacterial Challenge through Computational Modeling. Her team analysed bee haemolymph (insect blood) and developed the MALDI BeeTyping® approach to generate molecular mass fingerprints (MFPs) as signatures of abiotic and biotic stressors' impacts on individual bees. This talk was followed by PoshBee's coordinator Prof. Mark Brown (Royal Holloway University of London) who had the chance to specifically present PoshBee to the attendees. He discussed the project's initial objectives and most significant results, as well as the most important lessons learned from the past four years of collaborative bee health research.
Later that same day, Dr. Sara Hellström (Martin-Luther-Universität Halle-Wittenberg) gave a very well-received talk on how "Solitary bee fitness is impaired by a trypanosome parasite but not by a butenolide insecticide". As part of the symposium Pan-European research networks, PoshBee partners from the University of Murcia presented a communication in a poster – "Interactions of different pesticides and Nosema ceranae infection in the honey bee Apis mellifera" by Urueña A., Blasco-Lavilla N., De la Rúa P. Additionally, on 22 September, Prof. Jane Stout gave a Keynote lecture on "Pollinator Conservation: From Bees to Board Rooms".
Among the other PoshBee partners at EurBee 9 were Prof. Robert Paxton, Dr. Tomasz Kiljanek, Prof. Philippe Bulet, Dr. Simon Hodge, Dr. Léna Barascou and others.