pan-european assessment, monitoring, and mitigation of stressors on the health of bees
"Shaping the Future for Pollinators" and other PoshBee relevant events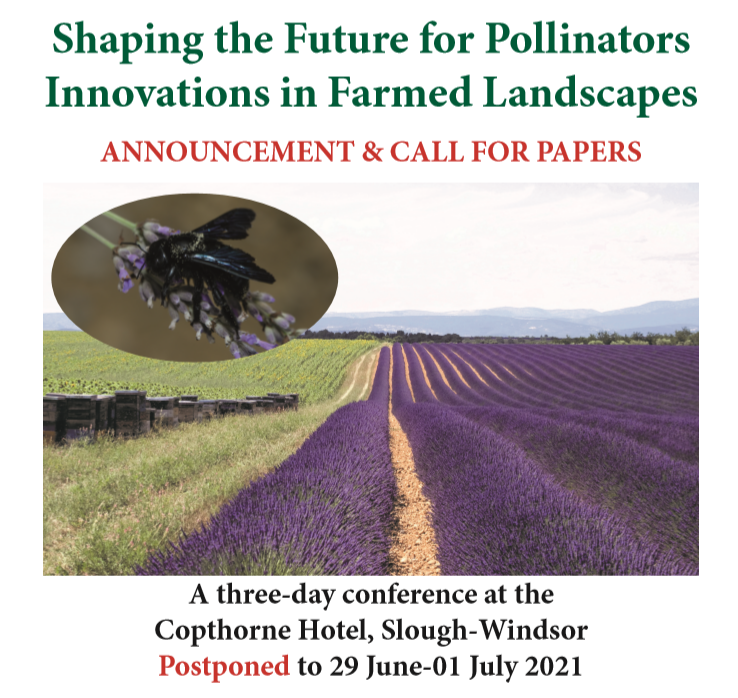 Pollinators play a vital role in maintaining both semi-natural and agricultural ecosystems and healthy populations bolster food security, livelihoods and social wellbeing. With evidence that many species of pollinators are in decline, their conservation and management is of great public, economic and political interest. As a result, the ecology and conservation of managed and wild pollinators is a rapidly growing field of research, alongside the study of their associated ecosystem services.
The "Shaping the Future for Pollinators: Innovations in Farmed Landscapes" conference aims to determine how we can shape farmed landscapes to make them resilient to future challenges such as climate change. Delegates will explore the impact of agricultural practices at the farm and landscape scale on pollinator behaviour, ecology and the delivery of ecosystem services. Talks and discussions not only to share current best practices on the sustainable management of pollination services, but explore how novel innovations can create new opportunities and address future risks. This conference aims to bring together researchers, practitioners and policymakers to debate recent advancements in the field of pollinator research; and also to go beyond ecological research to explore emerging technologies within the field.
In light of COVID-19 Pandemic, the conference has now been postponed to 29th June 2021. The new deadline for submission of abstracts is 30 September 2020. As a part of PoshBee, we encourage you to consider what project outputs that you would like to showcase would be emerging by summer 2021 and use this conference as an opportunity to highlight them.
You can learn more about the conference's venue, programme and contact persons here.
To submit an abstract, please follow this link.
Similarly to this event, many other conferences on pollinators have been either cancelled or postponed. The table below provides updates on some events relevant for PoshBee:
| | | |
| --- | --- | --- |
| Event | Location | Update |
| Coloss NUTRI-Task Force Workshop | Archamps, France | Cancelled for 2020, no further information |
| Ireland's Buzzing: International Conference on Pollinator Conservation | Limerick, Ireland | Postponed to 19-20 May 2021 |
| 11th International Meeting of Young Beekeepers | Ivančna Gorica, Slovenia | Postponed to 5-9 July 2021 |
| International Entomological Congress | Helsinki, Finland | Postponed to 18-23 July 2020 |
| FIBKA Beekeeping Summer School | Gormanston, Ireland | Cancelled for 2020, no further information |
| European Congress of the IUSSI | Toulouse, France | Postponed to 22-25 August 2021 (presumably at the same location) |
| Annual meeting of the ecological society of Germany, Switzerland and Austria | Brunswick, Germany | Postponed to 30 August - 3 September 2021 |
| Eurbee | Belgrade, Serbia | Postponed to September 2022 |
| Third International Conference on Propolis | Istanbul, Turkey | Postponed to April-May 2021 |